Kanto Koshinetsu/ Tochigi Pref.
Tochigi 
Tochigi, a Little Kyoto in the Kanto Region, the Town with Koi Carp and Old Storehouses

Tochigi City is located in the southern part of Tochigi Prefecture with Mt. Tsukuba to the east, Mt. Ohira to the west and the Nikko mountain range to the north as well as the Uzuma River running through the city center. Since the city was located on the old Nikko Reiheishi Highway during the Edo period, it was an important lodging city for travelers. The area also flourished as a merchant town as the Uzuma River was a main transportation hub in those days. A number of storehouses were built and Tochigi became a town of politics, commerce and culture. The atmosphere of olden days still remains today. Old storehouses, white earthen walls of the houses, canals with colorful koi carp elegantly swimming by, along with many other attractions, such as the seasonal colors of Mt. Ohira and the historical heritage of Izurusan Mangan-ji Temple, welcome visitors throughout the year.

■Access:
[By Train]
Both Tobu Railways and JR trains are available. The Express on the Tobu Railways runs almost every hour to Tochigi.
By JR, depart from Ueno or Shinjuku Station to Oyama Station by the Express train, then change to the local train on the Ryomo Line.
There is also an Express train which directly connects Tochigi and Shinjuku.
Please note that there are two main stations in the city: one is Tochigi Station where both JR and Tobu Railways are available and the other is Shin Tochigi Station where only Tobu Railways provides services.

From Tokyo
[Tokyo Station] > Tohoku Shinkansen (45 min.) > [Oyama Station] > Ryomo Line (12 min.) > [Tochigi Station]
From Asakusa
[Asakusa Station] > Tobu Nikko Line (Express; 80 min.) > [Tochigi Station]
From Sendai
[Sendai Station] > Tohoku Shinkansen (110 min.) > [Oyama Station] > Ryomo Line (12 min.) > [Tochigi Station]
From Niigata
[Niigata Station] > Joetsu Shinkansen (100 min.) > [Omiya Station] > Tohoku Shinkansen (20 min.) > [Oyama Station] > Ryomo Line (12 min.) > [Tochigi Station]

[By Car]
The Tohoku Highway runs through the city from north to the south on which two interchanges are located: Sano Fujioka I.C. and Tochigi I.C. In 2011, a new Kita Kanto Highway which runs from east to west was opened with the Tsuga I.C. in the city. The Prefectural Road #50 connects the city with Gunma, Tochigi and Ibaraki prefectures as well as the national road #293 in the north part of the city.

From Tokyo
[Kawaguchi I.C.] > Tohoku Highway (68 km) > [Tochigi I.C.] > Prefectural Road (3 km) > [Tochigi]
From Sendai
[Sendai Miyagi I.C.] > Tohoku Highway (260 km) > [Tochigi I.C.] > Prefectural Road (3 km) > [Tochigi]
From Niigata
[Niigata Kurosaki I.C.] > Kanetsu Highway (207 km) > [Maebashi I.C.] > Kita Kanto Highway (73 km) > [Tochigi I.C.] > Prefectural Road (3 km) > [Tochigi]
Sightseeing Highlights in Tochigi
Important Annual Events in Tochigi
Traditional Crafts of Tochigi
Mini Geta Wooden Clogs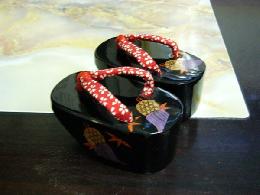 Tochigi used to produce a lot of geta (Japanese wooden clogs) and is counted as Japan's three best geta production areas along with Fukuyama in Hiroshima and Shizuoka. Materials used for the clogs are Yashu-kiri and Aizu-kiri (both a kind of paulownia tree) both of which are found in the northern Kanto area. Geta clogs made in Tochigi were very famous and have been recognized since the Edo period for their superb quality. Geta clogs are not generally worn today but the traditional technique of geta making still survives in the making of mini-geta clogs which are a popular souvenir. They are also called Kura-geta (with a wish for business success) or Chikara-geta (as people believed that letting a baby wear these mini clogs make the baby's legs strong).
Food & Specialties of Tochigi
Fried Noodles with Potato
Probably, a combination of fried noodles and potato doesn't sound good, however, once you taste it, you will surely change your mind. For the local people of Tochigi, fried noodles cannot be eaten without potato and the dish has been loved for many decades. It is said that people invented this noodle dish during the war time; because of a lack of food, people added potato to the noodles to increase the quantity. This is a must-try special dish of Tochigi.
Yugao Ramen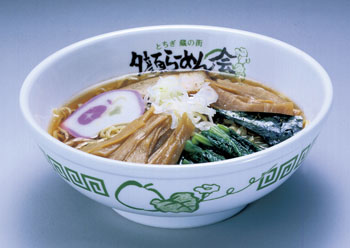 Yugao is a kind of vegetable. In Japan, rolled sushi contains a vegetable called kanpyo and the kanpyo is made from yugao which looks like a round gourd. Tochigi is a production area of kanpyo. Since kanpyo is used almost only for sushi, local people wondered if they can use kanpyo in other dishes. This is how "Yugao Ramen" was born. The noodles are made from flour mixed with powdered yugao. The noodles have a soft and smooth texture and are very good for health as they contain lots of fiber and calcium.
Ohira Dango, Tamago-yaki, Yakitori
In the old days, people believed that hens which chattered at night invited bad luck and brought such hens to Mt. Ohira to dedicate them to the deity of the mountain. Then, people collected their eggs, fried them and used the hen's meat to prepare yakitori (grilled chicken on skewers) to offer to the deity of Ohirasan Shrine. Ample amounts of rice and grains were also offered as people wished for a good harvest in autumn. They produced "Ohira Dango" - sweet dumplings, using the rice. There are many restaurants and stalls in the area near Mt. Ohira and Mt. Kinchaku which serve the "Three Must-try Specialties of Mt. Ohira (yakitori, sweet dumplings, and fried egg)." Try and enjoy the taste of Tochigi.
Contact

Tochigi City Tourism Association
TEL:0282-25-2356 / FAX:0280-20-7373
E-mail: t-kankou@cc9.ne.jp