Kanto Koshinetsu/ Ibaraki Pref.
Koga 
The Town of Peach Flowers with History and Tradition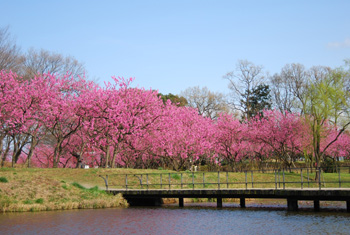 Located just in the center of the Kanto region and on the western end of Ibaraki Prefecture, Koga City is a city which is blessed with the natural environment of both the Tone and Watarase Rivers along with a long history of full of local tradition. The city still retains its atmosphere from the old times when it flourished as a lodging town and many old temples and shrines can be found. On the west side of Koga Station, many historical and cultural spots are scattered about such as Koga History Museum and Tenkoku Museum. In the Hanamomo-no Sato Park and Koga Kubo Park (Koga Sogo Park), 1600 peach trees made up of 5 different varieties bloom all together in spring and welcome visitors.
Sightseeing Highlights in Koga
Important Annual Events in Koga
Traditional Crafts of Koga
Bamboo Art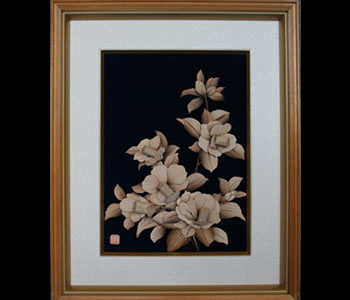 Special bamboo artwork is made with the soft inside stem of wild bamboo growing in Koga. Utilizing its shiny beauty and flexibility, little pieces of bamboo are pasted together to complete a picture. No other examples of such a kind of art exists in Japan. By burning the surface for finishing, the picture becomes three-dimensional and appears even more beautiful.
Food & Specialties of Koga
Access

Koga Station on JR Utsunomiya Line, JR Shonan Shinjuku Line, JR Ueno Tokyo Line. Shin Koga Station on Tobu Nikko Line
Contact

Koga City Tourism Association
TEL:0280-23-1266 / FAX:0280-23-3088
E-mail: kankou@city.ibaraki-koga.lg.jp