Shikoku/ Kochi Pref.
Nakamura 
Nakamura, the Town of Last Pure Shimanto River and Dragonfly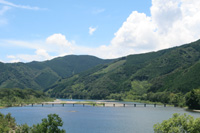 Nakamura was built by a former Kanpaku (samurai government general), Norifusa Ichijo, after he escaped from war fires in Kyoto and came to this place to reproduce Kyoto corresponding with the ancient topography. The city followed the grid pattern like Kyoto and some of the areas were named after those in Kyoto such as Gion, Kyo-machi, Kamogawa and Higashiyama. The urban area is surrounded by the pure Shimanto River and its tributary, the Ushiro River. This landscape with rivers closely resembles Kyoto. The Ichijo Family in the Tosa region prospered for 106 years through five generations. The family was strongly influenced by Kyoto culture and created a unique elegant cultural sphere which has been inherited by modern-day Nakamura. The nature in this city retains its original landscape including the Shimanto River and is known as an exceptional habitat for dragonflies as well as wild birds.
Sightseeing Highlights in Nakamura
Important Annual Events in Nakamura
Traditional Crafts of Nakamura
Food & Specialties of Nakamura
Access

A 5-min. walk from Nakamura Station on Tosa Kuroshio Railways
Contact

Shimanto City Tourism Association
8-3 Ekimae-cho, Shimanto City, Kochi 787-0014
(in the bus rotary of Tosa Kuroshio Railways Nakamura Station)
TEL:0880-35-4171 / FAX:0880-34-1144
E-mail: info@shimanto-kankou.com