Chubu/ Shizuoka Pref.
Mori 
A Little Kyoto in Enshu Area – Mori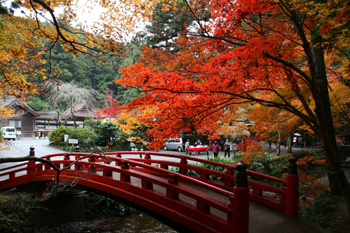 Surrounded by low mountains in three directions with the Ota River running through the center of town, Enshu Mori is blessed with a natural environment. In bygone years, the town was a major lodging stop along the way to the Akiha Shrine which enshrines the deity of fire protection. From the mid-Edo period (17-19th century), it thrived as a center of vintage clothing and was named in the paintings of Katsushika Hokusai's "A List of Thriving Cities." When the geographer Shigetaka Shiga visited here in July 1923, he described the city as "a Little Kyoto" with beautiful nature and pure water; since then, the town has been called a Little Kyoto in Enshu.
The mountain range of Mori Town is connected to the southern part of the Akaishi Mountain Range. The upper stream of the Ota River is a good habitat for Kingfisher and Amago (red spotted trout). There are many shrines and temples which have been worshipped by local people over a long period of time and the town has developed a number of unique traditional dances and festivals. In the 21st century, we are constantly asked to consider what is the true sense of "richness." The old buildings and cultures in Mori Town will help you to find the answer. Tourists who visit Mori Town will touch the warmness of local people and experience local culture rather than just quickly passing on by car. This is a place that always welcome people with warm hospitality.

Sightseeing Highlights in Mori
Important Annual Events in Mori
Traditional Crafts of Mori
Moriyama Porcelain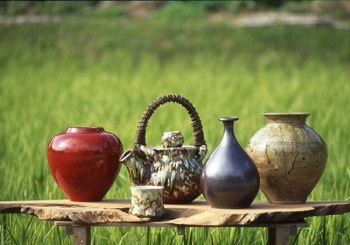 Moriyama Porcelain displays a variety of characteristics, such as pieces that have an earthy yet highly artistic sense which is called Aka-yaki. Some express folksy tastes with a Japanese flavor while others are contemporary. All of these porcelain works are born from the techniques inherited from the Meiji period (1868-1912) and the skilled craftspeople continue to develop their styles into the future.

Food & Specialties of Mori
Access

Enshu Mori Station on Tenryu Hamanako Railway or Enshu Morimachi P.A. Smart I.C. or Mari Kakegawa I.C. on the Shin Tomei Highway
Contact

Mori Town Industry, Commerce and Tourism Section
TEL:0538-85-6319 / FAX:0538-85-5259
E-mail: kanko@town.shizuoka-mori.lg.jp