Chugoku/ Okayama Pref.
Takahashi 
Takahashi, a Town of Pure Water and Heart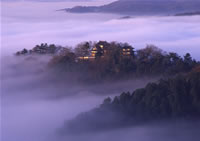 Takahashi is often called "A Little Kyoto in the Bicchu Area." The flat basin is surrounded by mountains and the Takahashi River slowly runs through the center of the city. Takahashi once flourished as a center of the Bicchu area and relics and the atmosphere from the olden times still remain here and there in the city. Bicchu Matsuyama Castle, which still retains its castle keep at the highest location of all castles in Japan, Raikyu-ji Temple, samurai residences, a Merchant Museum and many other cultural assets display the beauty of the Edo period along with Fukiya Furusato Village, designated as an important preservation district of historic buildings.
Sightseeing Highlights in Takahashi
Bicchu Matsuyama Castle
This castle, an Important Cultural Property of Japan, is located on a mountain and thus its keep is located at the highest altitude of all castles in Japan. In autumn, a beautiful sea of clouds surrounds the area, giving rise to the name "the castle in heaven."
Access
Take a taxi from JR Bicchu Takahashi Station
Raikyu-ji Garden
This superb garden was designed by Enshu Kobori in his early stage as a gardener and is a national scenic beauty spot. Azalea bushes create such a beautiful view.
Access
A 10-min. walk from JR Bicchu Takahashi Station
Ishibiya-cho Furusato Village
An earthen wall on both sides of the street surround massive samurai residences which are open to the public.
Access
A 15-min. walk from JR Bicchu Takahashi Station
Merchant Museum
This particularly large traditional Japanese house on Honmachi Street belonged to the Ikegami Family. It is open as a free public rest place today.
Access
A 20-min. walk from JR Bicchu Takahashi Station
Local History Museum
A former elementary school established in the Meiji period has been renovated as a local museum.
Access
A 10-min. walk from JR Bicchu Takahashi Station
Important Annual Events in Takahashi
Traditional Crafts of Takahashi
Hina Ningyo Doll
Traditional Japanese Doll Set for a girl's celebration. Hina Ningyo dolls are decorated with beautiful woven textiles using gold yarns from Kyoto and are carefully made one by one by experienced craftsmen.
Bicchu Kagura Mask
Unique masks are cherished as an interior decoration. Made of paulownia wood.
Food & Specialties of Takahashi
Yubeshi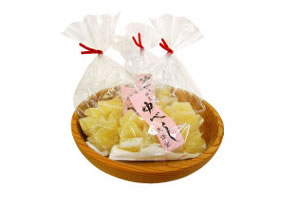 A traditional sweet which has been loved by people in Bicchu Matsuyama since the Edo period. It was offered to the Emperors of Meiji, Taisho and Showa periods and loved by all.
Ayu Sweetfish
There is a karst field spread around the upper stream of the Takahashi River, thus, the water of the river contains a lot of calcium. This is a secret of the sweet fish ayu's good taste!
Bicchu Uji Tea
Quality Japanese green tea has been produced in the Uji district in Takahashi for a long time. No food additives are used.
Pione Grape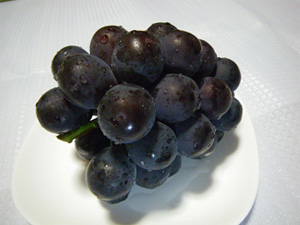 One of the specialty items of Takahashi City. Many farms grow Pione and they are very sweet and juicy.
Handmade Food
Groups of local women use local agricultural crops and cook delicious dishes without food additives or coloring.
Takahashi Black Tea
Tea leaves harvested in Takahashi City are carefully fermented and become a tasty black tea with a good aroma and slight natural sweetness.
Tomato
The inside of this tomato is pink. High in sugar levels and lasts longer than other kinds of tomato.
Bicchu Yume Dainagon Red Bean
Red beans from Takahashi have a thinner skin, larger size, and more flavor. It is highly valued as the best choice for making tasty silky red bean paste for Japanese sweets.
Kagura Mask Monaka
The crispy rice cracker looks like a mask of Bucchu Kagura, a traditional performing art of Takahashi City. Inside is ample amounts of tasty sweet red bean jam cooked with quality white sugar which takes many hours to make.
Bicchu Takahashi Indian Tomato Fried Noodle
In the late 70s to early 80s, Indian Fried Noodles (fried noodles flavored with curry) was a popular school lunch in Takahashi City. Tomato is added as another flavor and a new local soul food was born as the Indian Tomato Fried Noodle.
Access

Bicchu Takahashi Station on JR Hakubi Line
Contact

Takahashi City Tourism Association
TEL:0866-21-0461 / FAX:0866-21-0462
E-mail: info@takahasikanko.or.jp