Kanto Koshinetsu/ Niigata Pref.
Kamo 
A Little Kyoto in the Hokuetsu Region with Camellia and Paulownia Chests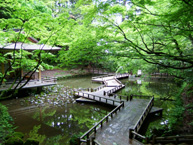 Kamo City is located almost in the center of Niigata Prefecture. The city has long been called a "Little Kyoto in the Hokuetsu region" as its geographical elements are similar to those of Kyoto's: surrounded by mountains in three directions and with a Kamo River whose origin starts from Mt. Awagadake and runs into the Shinano River. Kamoyama Park, located near the city center, is blessed with rich nature and is loved as a recreation site for local people. The park is also known for beautiful Yuki Tsubaki, or Snow Camellia which showcases splendid blossoms in the heavily-snowy region in winter. Approx. 50,000 camellia trees will be in bloom in the early spring. Kamo is famous for the production of traditional paulownia chests (Kiri Tansu). The traditional techniques of the craftsmen and their quality are highly valued throughout the county.
Sightseeing Highlights in Kamo
Important Annual Events in Kamo
Traditional Crafts of Kamo
Kamo Kiri Tansu Paulownia Chest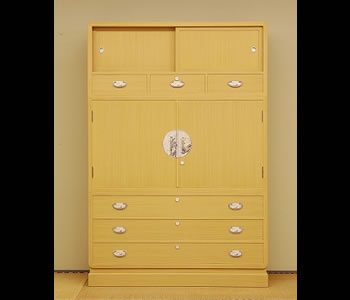 Kamo City is the top producer in Japan of quality Kiri Tansu paulownia chests (70% of all paulownia chests in Japan are from Kamo City). Paulownia chests are regarded as the finest quality furniture due to the warmth of the wood, silky white shimmer and beautiful straight wood grains and color. It was designated as the Traditional Craft of Japan by the Minister of Economy, Trade and Industry on December 15th, 1976.

Byobu Folding Screen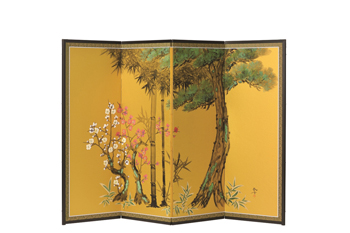 Traditionally, folding screens, or byobu, were an essential furniture in a Japanese house for blocking wind coming into the house and people looking in from outside as well as for decorative purposes. Kamo is very famous for the paulownia chests and folding screens are yet another main craft; 90% of folding screens in Japan come from Kamo City.
Food & Specialties of Kamo
Locally-brewed Sake (Kamo Nishiki, Yuki Tsubaki, Masu Kagami)
Sake breweries in Kamo City produce quality Japanese sake many of which won awards in different competitions.
Sweets
There are many popular local sweets from Kamo City: Yuki Tsubaki, Karls (cracker), Hoine (sweet dumpling), Karinto (sweet fried cookie) and more.
Fruits
Fruits from Kamo City are highly praised; Niitaka nashi (Japanese pear), Le Lectier (Western pear) and jelly using Le Lectier are particularly popular.
Access

Kamo Station on JR Shinetsu Main Line
Contact

Kamo City Commerce and Tourism Section
TEL:0256-52-0080 / FAX:0256-53-4676
E-mail: syoko@city.kamo.niigata.jp