Kinki/ Hyogo Pref.
Izushi 
Izushi, a Little Kyoto in Tajima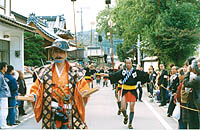 Izushi is a place where historical townscapes still blend in harmoniously with the modern buildings. Strolling around the town allows visitors to discover various historical charms, such as the Izushi Castle ruins, here and there. Other historical charms are: Shugo-dera local temples dotted around in the old district, machiya traditional houses where people still live, the Oryu Lantern which was built on the remnants of an old boat deck and Shinko-ro, a retro tower rebuilt after the former castle gate. Every season has something different to offer in this town. Cherry blossoms and magnolia in spring, maple and ginkgo trees changing color beautifully in autumn. Recommended fieldtrip spots to spend a refreshing time in nature are at the pure stream and Shiraito Waterfall located in Okuyama Valley and the sacred Nan-ja Mon-ja tree at Toku Shrine.
Sightseeing Highlights in Izushi
Izushi Castle Ruin
Enjoy the beautiful contrasting scenery between the thirty-seven vermillion tori shrine gates and the castle itself. This is also a popular site to enjoy the spectacular view of cherry blossoms in spring.
Access
A 2-min. walk from Izushi Eigyo-sho Stop of Zentan Bus
Shinko-ro Tower
In the early Meiji period, the tower was used for informing people of the time by drumbeat. Now used as a clock tower.
Access
A 2-min. walk from Izushi Eigyo-sho Stop on the Zentan Bus
Sukyo-ji Temple
This temple was rebuilt by the priest Takuan, who was said to have invented Takuan, a Japanese pickle made with radish. It is a family temple for successive governors.
Access
A 10-min. walk from Takuandera-guchi Stop on the Zentan Bus bound for Izushi
Important Annual Events in Izushi
Traditional Crafts of Izushi
Izushi-yaki Porcelain
This porcelain has a smooth transparent white as a base color. It has a silk-like tone and delicate sculptured shape produced by an accomplished artisan's skill.
Izushi Chirimen Fabric
Izushi Chirimen is regarded as one of Japanese great traditional textiles with elegant patterns and colors and the smooth texture of silk.
Kiryu Craft
A legend recounts that the sun god, Amenohiboko, planted salix, a material which is used for making Kiryu products. In the olden days, Yanagigori, a woven basket, was the top selling line and now bags and folk art products are especially popular.
Food & Specialties of Izushi
Izushi Soba Buckwheat Noodles
Izushi soba is served on a small Izushi porcelain plate and one portion is served divided into five small plates of soba. "Freshly milled, made by hand and just boiled"; this is the essence of Izushi soba.
Access

From Toyooka Station on the JR Sanin Main Line, take the Zentan Bus for about 30-min. to get to Izushi Eigyo-sho
Contact

NPO Tajima-no-Kuni Izushi Tourism Association
TEL:0796-52-4806 / FAX:0796-52-4815