Kanto Koshinetsu/ Tochigi Pref.
Sano 
Little Kyoto with Nature, History, Human Kindness and a Romantic Atmosphere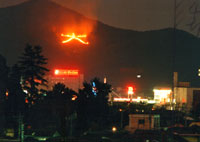 Sano is an historic and cultural town with an abundance of nature, such as Mt. Mikamo, which emanates poetic sentiment and Mt. Karasawa, associated with a Heian-period lord, Hidesato Fujiwara. In particular, various famed mineral springs can be found in this area, such as water from Izuharabenten Pond, selected as one of the 100 Best Spring Waters of Japan. The water is sold as a souvenir and is used for various kinds of cooking and food products. Since Sano was located on an important highway in the Edo period, the town flourished as a lodging base for travelers. Visitors are assured a memorable trip as they encounter the great nature and history of Sano.
Sightseeing Highlights in Sano
Sano Yakuyoke Daishi
One of the three important temples which enshrines the deity known as Daishi, as it enshrines a Buddhist priest, Ganzan Jie Daishi, who is believed to give blessings that protect worshippers from misfortune. A grand festival is held on the New Year's Days and as many as one million visitors come to pray for good luck in the New Year.
Access
A 15-min. walk from JR Sano Station

Man'yo Nature Park "Katakuri-no Sato"
This park is one of the largest parks where katakuri (fawn lilies) are growing in clusters. Middle to late March is the best time to enjoy the flowers.
Access
A 15-min. drive from JR Sano Station

Karasawayama Shrine
Karasawayama Shrine stands on the remains of a castle at the top of Mt. Karasawa. This shrine is said to have been built and dedicated to Hidesato Fujiwara, a local lord who settled in this area. Castle walls, built during the 16th century are relics of this time.
Access
A 20-min. drive from JR Sano Station

Izuhara Benten Pond
The pond is located about 6 km northwest from central Sano. Pristine water comes out from a crack in the Paleozoic limestone and carp peacefully swim in the clear stream. The water is filtered by a very thick layer of sand and its temperature remains at a constant temperature of about 16 degrees throughout the year. The pond is designated as a Natural Monument of the prefecture and was selected as one of the 100 Best Spring Waters in Japan by the Environment Agency.
Access
A 25-min. drive from JR Sano Station

Santaki Waterfall
This gorgeous waterfall, the headstream of Hata River in the deep mountain valleys, was selected as one of the 100 Branch Streams of the Tone River. It consists of three waterfalls. Since the angle of each waterfall varies, it is impossible to view all three together. Therefore, it is also called "Waterfall of Mystery."
Important Annual Events in Sano
Traditional Crafts of Sano
Hina Dolls
In olden times, craftsmen gathered from around Japan for the construction of the Nikko Tosho-gu Shrine. Many continued to live in Sano and started to make Hina Dolls.
Tenmyo Casting
"Casting made in Sano is the best in the eastern part of Japan," an old saying goes. The history of Tenmyo casting dates back 1000 years and its techniques have been passed down across countless generations to the local metal casters of today.
Clay Bell
Wholeheartedly-made clay bells in Sano have more than 300 variations. The tone is simple and gentle and is guaranteed to touch listener's heartstrings.
Food & Specialties of Sano
Sano Ramen
The secret of Sano ramen noodles is to knead and flatten the dough with a green bamboo stem. This method allows the noodles to retain more air inside which results in their chewy texture.
Fried Potato
Sweet and not-soggy potatoes match up with a lightly sweetened sauce.
Kakina Manju
Kakina (green leafy vegetable) is a specialty of Sano becoming popular these days. Kakina Manyu is a sweet dumpling using a full batch of Kakina leaves.
Sano Meisui Tofu
Tasty tofu is made from natural mineral water from Sano, quality soybeans and natural bittern.
Mimi Udon
This is a local dish which people have enjoyed over the New Year from ancient times in Senba Town in Sano. The noodle has a shape like a demon's ear. According to a well-known legend, it is said that eating these noodles ensures a healthy life and good relationships with neighbors.
Access

Sano Station on JR Ryomo Line or Tobu Sano Line
Contact

Sano City Tourism Association
TEL:0283-21-5111 / FAX:0283-21-5000