Kanto Koshinetsu/ Tochigi Pref.
Sano 
Little Kyoto with Nature, History, Human Kindness and a Romantic Atmosphere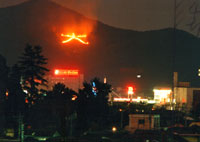 Sano is an historic and cultural town with an abundance of nature, such as Mt. Mikamo, which emanates poetic sentiment and Mt. Karasawa, associated with a Heian-period lord, Hidesato Fujiwara. In particular, various famed mineral springs can be found in this area, such as water from Izuharabenten Pond, selected as one of the 100 Best Spring Waters of Japan. The water is sold as a souvenir and is used for various kinds of cooking and food products. Since Sano was located on an important highway in the Edo period, the town flourished as a lodging base for travelers. Visitors are assured a memorable trip as they encounter the great nature and history of Sano.
Sightseeing Highlights in Sano
Important Annual Events in Sano
Traditional Crafts of Sano
Hina Dolls
In olden times, craftsmen gathered from around Japan for the construction of the Nikko Tosho-gu Shrine. Many continued to live in Sano and started to make Hina Dolls.
Tenmyo Casting
"Casting made in Sano is the best in the eastern part of Japan," an old saying goes. The history of Tenmyo casting dates back 1000 years and its techniques have been passed down across countless generations to the local metal casters of today.
Clay Bell
Wholeheartedly-made clay bells in Sano have more than 300 variations. The tone is simple and gentle and is guaranteed to touch listener's heartstrings.
Food & Specialties of Sano
Sano Ramen
The secret of Sano ramen noodles is to knead and flatten the dough with a green bamboo stem. This method allows the noodles to retain more air inside which results in their chewy texture.
Fried Potato
Sweet and not-soggy potatoes match up with a lightly sweetened sauce.
Sano Meisui Tofu
Tasty tofu is made from natural mineral water from Sano, quality soybeans and natural bittern.
Mimi Udon
This is a local dish which people have enjoyed over the New Year from ancient times in Senba Town in Sano. The noodle has a shape like a demon's ear. According to a well-known legend, it is said that eating these noodles ensures a healthy life and good relationships with neighbors.
Sano Black Kara-age Fried Chicken
Sano Black Kara-age Fried Chicken is a new local specialty of the city born from the "Sano Papa Project." The rich and aromatic sauce tastes so nice that you can't help trying it again. As the name says, the chicken appears blackish in color.
Access

Sano Station on JR Ryomo Line or Tobu Sano Line
Contact

Sano City Tourism Association
TEL:0283-21-5111 / FAX:0283-21-5000