Kyushu/ Oita Pref.
Hita 
Hita, the Shogunate Territory – A City in the Mountains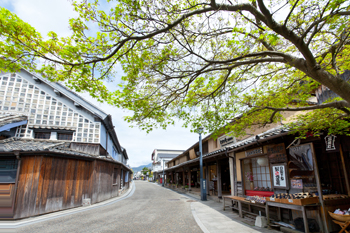 Hita basin, surrounded by beautiful mountains, once prospered as the political, cultural, and economic center of the Kyushu area. There were the great activities of wealthy merchants acting as purveyors for the shogunate along with the comings and goings of citizens and artisans. The remains of such a glorious time still remain here and there around the city. From late autumn to early spring, a low ground fog appears and creates a mysterious scene which is described as "the legendary lakeside district appearing from the bottom of the lake." The fog often appears still today and surrounds the town, people, history, and all of Hita City.

■Access:
(JR)
JR Hita Station
70 min. from JR Hakata Station (via Kagoshima Main Line: Limited Express)
1 hour and 40 min. from JR Oita Station (Kyudai Main Line: Limited Express)
40 min. from JR Kurume Station (Kyudai Main Line: Limited Express)


(Bus)
Hita Bus Terminal Tel: 0973-22-7681
1 hour and 24 min. from Fukuoka Airport (Express Bus)
1 hour and 40 min. from JR Hakata Station (Express Bus)
1 hour and 35 min. from Nishitetsutenjin Express Bus Terminal (Expressway Bus)
1 hour and 20 min. from Beppu Kitahama Bus Center (Express Bus)
2 hours and 20 min. from JR Nagasaki Station (Express Bus)

(Car)
70 min. from Fukuoka I.C.
75 min. from Oita I.C.
90 min. from Kumamoto I.C.
50 min. from Shintosu Station
Sightseeing Highlights in Hita
Important Annual Events in Hita
Traditional Crafts of Hita
Onta-yaki Pottery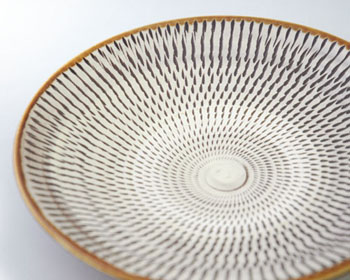 Onta-yaki is an important folk art which still preserves its traditional pottery making techniques. The advocator of the Japanese Arts & Crafts movement, Muneyoshi Yanagai, and an English ceramic artist, Bernard Leach, both highly praised Onta-yaki, and as a result it became famous. The essence of Onta-yaki is "issisouden", meaning the techniques are passed down from the father to only one of his sons. Thanks to this tradition, it is designated as an Important Intangible Folk Cultural Property of the country. The sound of mortar, which breaks up the potter's clay, resonates through quiet village among the hills. It is selected as one of the Best 100 Soundscapes of Japan.

Hita Wooden Clogs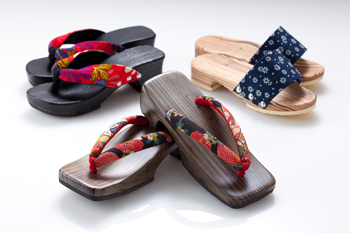 In the Tenpo period (1830-1844), Hita City was under the control of the Edo Shogunate and making wooden clogs was promoted as the town's new industry by local governors. It has been a representative artifact of Hita since that time and is a traditional craft whose production technique has been passed on to craftsmen who have confidence and display the deep spirit of artisans.

Food & Specialties of Hita
Contact

Hita City Tourism Association
TEL:0973-22-2036 / FAX:0973-22-2444