Chugoku/ Hiroshima Pref.
Onomichi 
Compact City of Japan Heritage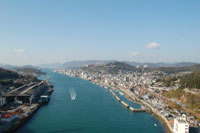 Located in the eastern part of Hiroshima Prefecture, Onomichi City faces the Seto Inland Sea and is the gateway of the Shimanami Kaido, a long toll road that connects Japan's main island of Honshu to the island of Shikoku. Onomichi has developed as a port town since it opened about 850 years ago and flourished in the Edo period (1603-1868) as the anchorage port of the Kitamae Boats. Naturally, merchants became wealthy and powerful and they built many Buddhist temples, many of which still stand today and visitors can enjoy exploring around these old temples along a nice hiking course. Onomichi was loved by many Japanese literati and cultural people such as Fumiko Hayashi (female novelist) and Naoya Shiga (novelist). Along the Shimanami Kaido, Mukaishima Island is famous for its orchids. Innoshima Island used to be the stronghold of the famous Murakami Suigun pirates who were very powerful in medieval times. The island is also famous as a production area of Japanese citrus fruits. Kosan-ji Temple, also known as the Nikko Tosho-gu Shrine in Western Japan, is on Ikuchi-jima Island. Every island has a unique attraction on the Shimanami Kaido.
Sightseeing Highlights in Onomichi
Senkoji Park
A large park on Mt. Senokoji, with Senko-ji Temple in the center. On a fine day, a superb view of the mountain ridges on Shikoku island can be enjoyed.
Access
3-min. by bus from JR Onomichi Station, and then take a ropeway for 3 minutes
Onomichi Literature Museum
This museum exhibits historical documents related to Japanese literati who had a connection with Onomichi such as Naoya Shiga, Kenkichi Nakamura and others.
Access
A 15-min. walk from JR Onomichi Station
Setouchi Shimanami Kaido
The distance of about 60 km between Hiroshima and Ehime prefectures is connected by nine suspension bridges.
Access
15-min. by car from JR Onomichi Station
Mukaishima Orchid Center
A variety of orchids from all around the world can be enjoyed throughout the year.
Access
15-min. by car from JR Onomichi Station
Innoshima Suigun Castle
Murakami Suigun were pirates who set their stronghold on Innoshima Island in medieval times. Armors and historical documents about Murakami Suigun are exhibited.
Access
30-min. by car from JR Onomichi Station
Kosan-ji Temple
This magnificent Buddhist temple is called the Nikko Tosho-gu Shrine of Western Japan. Its design follows that of many fine examples from all around Japan. Visitors can visit a number of temple buildings situated in their large precincts.
Access
30-min. by car from JR Onomichi Station
Ikuo Hirayama Museum
A master of Japanese painting, Ikuo Hirayama's art works and valuable related materials are exhibited.
Access
30-min. by car from JR Onomichi Station
Important Annual Events in Onomichi
Saito Goma Ritual (Hiwatari Ritual)
January 8
Saikoku-ji Temple
The sacred Bon fire is lit on January 1 and people pray for a healthy life and good business luck in the coming year. This is the last day of burning the big Bon fire. Buddhist priests walk on the burning ashes chanting Buddhist sutras.
Honinbo Shusaku Igo Festival
Late July
Innoshima Community Hall
An Igo event held on the site where the Saint of "Igo," Shusaku Honinbo, was born. A number of Igo practitioners join it and display their skills.
Setsubun Ceremony
February 3
Saikoku-ji Temple
Auspicious Fuku-sazuke event and bean throwing ceremony are held during which people pray for a healthy life and good business luck at the beginning of the new spring.
Onomichi Haiku Festival
Mid March - mid April
Senkoji Park
Senkoji Park offers the best cherry blossom viewing spots in Onomichi, the city of literature. Lanterns, on which Japanese haiku poems are inscribed, decorate the park.
Onomichi Port Festival
Late April
In Onomichi City
Sumiyoshi Shrine enshrines Kakuzaemon Hirayama who is known as the father of the Onomichi Port. Along with the shrine's annual spring festival, many other events will be held including the Eejan SANSA Gari Contest.
Onomichi Sumiyoshi Firework Festival
Late July
Onomichi Suido
Onomichi's night sky will be adorned with about 13,000 colorful fireworks. This is the largest firework festival in the region.
Innoshima Suigun Festival
Late July, late August
Innoshima Suigun Castle, Shimanami Beach, and other locations
Energetic festival held on Innoshima Island where the famous medieval Japanese pirates, Murakami Suigun, had their stronghold. A samurai parade and boat race will be held.
Onomichi Lantern Festival
Mid October
In Onomichi City
Some 30,000 candles will beautifully illuminate temple approaches and their precincts in Onomichi.
Beccha Festival
November 3
Kibitsuhiko Shrine
Three demons named "Beta," "Soba" and "Shoki" will go around the city. It is believed that a person can enjoy a healthy life if he is hit by the thick bat carried by the demons.
Traditional Crafts of Onomichi
Hanpu Canvas
Hanpu is a durable and good air permeability cotton textile which was used for the mast of a boat.
Sakura Aroma Items
Senkoji Park is selected as one of the 100 Best Cherry Blossom Viewing Sites in Japan. Inspired by the delightful aroma of cherry blossoms in Senkoji Park, Onomichi Eau de Parfum, facial oil blotting paper, lip cream, and hand cream were created.
Food & Specialties of Onomichi
Fried Okoze Stonefish
Onomichi's local specialty, "Okoze" stonefish is fried thoroughly. Even the bones of crispy Okoze can be enjoyed.
Debera
Debera is a dried flatfish. Before eating, the hard, dried fish is hit with a wooden mallet and slightly roasted.
Onomichi Ramen
Ramen noodles with a soy sauce-based soup using fish broth and rich pig backfat.
Suigun-nabe Hot Pot
It is said that the Murakami Suigun members enjoyed this hot pot before going out for battle. The hot pot contains octopus as they believed in the omen that declared they could defeat enemies from eight directions.
Citrus Fruits
Islands around Onomichi are famous for delicious citrus fruits: Setoda, the birth place of Japanese lemon, Innoshima, the main production area of Hassaku orange, and Kone Island where the expensive Kone Orange is produced.
Access

Onomichi Station on JR Sanyo Main Line or Shin Onomichi Staion on Shinkansen Line
Contact

Onomichi Tourism Association
TEL:0848-37-9736 / FAX:0848-37-7525
E-mail: info@ononavi.jp