Kyushu/ Miyazaki Pref.
Nichinan 
The City of Industry, Culture and Intercommunion Nurtured by Greenery and the Black Current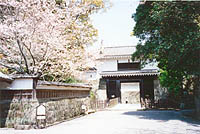 Nichinan is located in the southern part of Miyazaki Prefecture. The Nichinan Coast was designated as a National Park in 1955. In 1977, Obi, regarded as a Little Kyoto, was designated as a Preservation District for Groups of Historic Buildings for the first time in Kyushu. Stepping into Obi, it might feel as if one is going back in time a couple of hundred years to the Edo period by finding old samurai residents with traditional hedges and stone walls covered with moss. Visitors might not be surprised in this nostalgic atmosphere if samurai suddenly appeared from behind the prestigious Yakui-mon Gate! In Nichinan, there are Benko Ikada river boats made from Obi's cedar which float down the Horikawa Canal past Udo Jingu Shrine, situated halfway up a cliff facing the wild Hyuga Sea. Also, the city is known as the home town of Jutaro Komura, a diplomat from the Meiji period, who played a major role when the Treaty of Portsmouth was concluded.
Sightseeing Highlights in Nichinan
Obi Castle Ruins
This castle is a reminder of the 103-year history of battling between the Ito and Shimazu Clans.
Access
A 15-min. walk from Obi Station on the JR Nichinan Line
Yosho-kan
This is a warrior's typical traditional house in Obi with a beautiful garden view which borrows Mt. Atago's scenery.
Access
A 15-min. walk from Obi Station on the JR Nichinan Line
Obi Castle History Museum
Around 100 important historical documents and materials are conserved and exhibited.
Access
A 15-min. walk from Obi Station on the JR Nichinan Line
Old Shintoku-do Shogunate School
This is an old local school run by the Tokugawa shogunate where Jutaro Komura, a diplomat in the Meiji period, and Shohei Ogura studied.
Access
A 15-min. walk from Obi Station on the JR Nichinan Line
International Center Jutaro Komura Memorial Hall
There are exhibits showing the life of Jutaro Komura and the appeal and culture of Obi Castle Town.
Access
A 15-min. walk from Obi Station on the JR Nichinan Line
Important Annual Events in Nichinan
Nichinan Beach Lobster Festival
September – November (TBA)
Visitors can savor a freshly-caught Japanese Ise Ebi lobster at the time of the fishing opening season.
Hanadate Park Cherry Blossom Festival
Late March – Early April
Hanadate Park
The authentic view of some 10,000 Somei Yoshino cherry blossoms can be enjoyed. Night-time cherry blossom viewing is also worth experiencing and many events will be held during the festival time.
Aburatsu Harbor Festival
Saturday in mid-July
Surrounding area of Aburatsu Harbor
The largest fireworks festival in the Miyazaki prefecture with about 10,000 fireworks.
Obi Castle Town Festival
Third Saturday and Sunday of October
Area surrounding Obi Castle
A festival just like the Edo period that unfolds around Obi Castle Town.
Traditional Crafts of Nichinan
Obi Sugi Japanese Cedar Craft
Accessory box and furniture, flower vase and tableware made with Obi's cedar wood are masterpieces made by skilled artisans.
Food & Specialties of Nichinan
Shochu Distilled Spirit
A fresh flavored sweet potato Shochu made using strictly selected ingredients produced in a traditional way.
Sea Food
Nichinan is known as the #1 city of national fish catches of Katsuo, or bonito, caught in the offshore by a single pole-and-line fishing method. Aji Japanese horse mackerel and Ise Ebi lobster are also in abundant supply. Enjoy the delicious variety of sea products.
Agricultural Products
You can savor the earliest harvested rice in Japan "Koshi Hikari" brand, an organically grown Ponkan, a big sized orange and Hyuga summer orange.
Obi Tempura
This is tempura made with minced fish and black sugar.
Japanese Thick Omelet
The fluffy and thick egg roll is a specialty of Nichinan. It was offered to the local samura lord in the Edo period. The texture is very delicate like sweet egg custard.
Roasted Katsuo Bonito Topped on Rice
Fresh Katsuo (bonito) caught by a single pole-and-line fishing are dipped in two kinds of savory sauces and then grilled with charcoal. Perfect match with plain rice.
Fish Udon
Minced fish is used as dough for udon noodles. It is low calorie and high in protein. Enjoy the perfect fish-based broth.
Sweet Pea
Nichinan produces the highest number of Sweet Pea flowers in Japan.
Access

Obi Station on JR Nichinan Line
Contact

Miyazaki Prefecture Nichinan City Tourist Information Center
TEL:0987-31-1134