Chubu/ Aichi Pref.
Nishio 
A Castle Town with the Fragrance of Matcha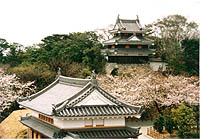 Nishio flourished as a castle town under the government of the Ogyu Matsudaira Clan from the early Edo period. Located to the south of central Aichi Prefecture, the city hosts a number of historical attractions, traditional events and entertainments, festivals and a wide variety of cultural assets. A mild climate and river fog rising from the Yahagi River create a perfect natural environment to grow good green tea, trees and plants. The production of tencha, the steamed green tea leaf which is the raw material of matcha green tea powder, is particularly famous in Nishio. Fishery products, such as cultivated eels and clams, are also some of its main products.
Sightseeing Highlights in Nishio
Kumaku Shrine
The shrine where Ieyasu Tokugawa, the first Tokugawa shogun, visited before the battle and prayed for victory. The main shrine hall is the oldest Irimoya-zukuri style architecture in the prefecture.
Access
15-min. by Meitetsu Tobu Kotsu Bus from Meitetsu Nishio Station
Jisso-ji Temple
This temple is reputed to be where tea cultivation began in Nishio. A large temple bell and many other unusual historical assets from the Nanbokucho period remain.
Access
15-min. by taxi from Meitetsu Nishio Station
Choen-ji Temple
Shoei-do Hall next to the main hall displays the statue of samurai lord, Katsushige Itakura.
Access
25-min. by Meitetsu Tobu Kotsu Bus from Meitetsu Nishio Station
Nishio History Park
Classical Japanese castle structures, such as Chujaku-mon Gate, Honmaru Ushi Tora Tower, Ninomaru Ushi Tora Tower and earthen wallsstill stand in the castle ruins.
Access
3-min. by Meitetsu Tobu Kotsu Bus from Meitetsu Nishio Station
Hirahara Waterfall
Several large and small waterfalls amidst natural forest will sooth visitors' minds.
Access
15-min. by Meitetsu Tobu Kotsu Bus from Meitetsu Nishio Station
Saku-shima Island
The largest island in Mikawa Bay. Interesting art projects are held with the concept of "Festival and Art."
Mt. Sangane
Beautiful view of Sanga Bay spreads out below Mt. Sangane. 70,000 hydrangea bushes colorfully adorn the approach in June and July.
Konren-ji Temple (Amida-do Hall is a National Treasure)
The oldest wooden building existing in the prefecture. Three statues of Amida are enshrined here.
Access
A 5-min. taxi ride from Meitetsu Kira Yoshida Station
Important Annual Events in Nishio
Tenteko Festival
January 3
Niike Hachiman Shrine
Men wearing funny costumes made with white radish dance along to the festive music. It is a festival wishing for a good harvest in autumn.
Toba Fire Festival
Second Sunday of February
Toba Shinmei Shrine
Selected men called Neko (mainly those who become 25 years old in the present year) jump into the Suzumi fire place and compete to get the sacred wood and rope in the fire. The wood and rope will be offered to the deity afterwards. It is the Intangible Folk Cultural Property of Japan.
Nishio Rokumangoku Cherry Festival
Late March to early April
By Midorikawa River, Honmachi Street, History Park
About 300 Yoshino-zakura cherry trees bloom beautifully along Midorikawa River. Special benches are set out under the lantern lights.
Spring Nishio Rose Festival
Mid May
Michi-no Eki Nishio Okanoyama
Rose is the symbol flower of Nishio. Lovely roses are gathered and sold.
Nishio Gion Festival
Mid July
In the city center
Samurai parade, mikoshi portable shrine procession and many other historical events are held under the summer night sky.
Kaifuku Kagi Lantern Festival
August 14
Mantoyama
Extremely old traditional Buddhist event with a 900-year history. People make bon fire which welcomes the spirits of the deceased returning to this world. Smoke from the fire ascending to the night sky is a solemn scene.
Yonezu River Festival
August 15
Yahagi River (downstream from Yonezu Bridge)
Lanterns flow on the river and fireworks decorate the night sky above. Such a colorful and romantic summer night scene.
Bo-no Te
Third Sunday of October
Tanuki Shinmei-sha Shrine
Traditional dance based on a Japanese martial art using a long stick (180 cm). Men skillfully control the stick and deliver an energetic performance.
Omanto Festival
Third Sunday of October
Nakahata Hachiman Shrine
A man runs in circle with a horse holding the horse's neck. Valiant festival between man and horse.
Ohitsu-wari
Third Sunday of October
Muro Shinmei Shrine
Men who are in their climacteric year based on tradition compete to get the rice container with red bean rice inside. The winner smashes the lid of the container and eats the rice by hand.
Menso Festival
Fourth Sunday of October
Tenjiku Shrine
The only shrine in Japan which enshrines the deity of cotton. A ceremony which recreates the process of cotton production with old tools will be held.
Mikawa Isshiki Large Lantern Festival
4th Saturday and Sunday of August
Mikawa Isshiki Suwa Shrine
Six pairs of large lanterns, as large as 10 meters high, are hung and create a magnificent scene.
Hawaii Festival
Late August
Kira Waikiki Beach
Hula dance show by local practitioners and Polynesian dance by real dancers from Hawaii will be performed.
Nishio Matcha Day
Mid October
Nishio City Culture Hall
Free sampling of matcha, matcha milling experience with a stone mill, matcha factory visit and many other matcha events will be held.
Traditional Crafts of Nishio
Mikawa Itto-bori Carving
Itto-bori is a simple carving completed only by hand using chisels.
Kirara Bell
Clay bell applied mica (kirara) produces a lovely sound – A symbol of love and happiness.
Kira Red Horse
A samurai lord, Kira, used to patrol around the town riding on a red horse. Based on this story, a pretty handmade horse figure is the symbol of Nishio.
Kakujo-yaki Ceramic
Using local clay, tea ceremony Kakujo-yaki ceramic utensils are preferred by local people as they enhance the rich aroma and taste of matcha from Nishio.
Food & Specialties of Nishio
Matcha
Matcha green tea from Nishio is highly praised for its elegant aroma and taste. Important ingredient of matcha is tencha steamed tea. Nishio is one of the best tensha production areas in Japan. Nishio's sencha and gyokuro green teas are also very famous.
Eel
Nishio produces the highest number of Isshiki Unagi eel in Japan. The eels are grown in an environment which is very similar to their natural habitat, therefore, their skin is soft and the meat is fatty.
Shrimp Cracker
A bite of this Mikawa Shrimp Cracker produces an extremely rich taste of shrimp. A local specialty that Nishio has been proud of for over 100 years.
Japanese Sweets
A variety of traditional Japanese sweets using Nishio's local specialties, such as matcha, large chestnuts and strawberries are very popular as a daily snack and gift choice.
Fermented Food
The dark color of the local miso made of soy beans attests to the high nutritional level.
Nishio's sake is tasty because it is made from special rice grown with the aid of the local fine water resources and fertile soil.
Mirin (sweet rice wine) has rich aroma and taste.
Tamari (thick) soy sauce is very rich and strong. All fermented food of Nishio is worth trying.
Nori Seaweed
Nori seaweed from Nishio is perfect in color, shimmer and aroma. Light texture and natural sweetness attracts people.
Access

Nishio Station on Meitetsu Nishio Line
Contact

Nishio City Tourism Association
TEL:0563-57-7882 / FAX:0563-57-2261