Chugoku/ Okayama Pref.
Tsuyama 
Tsuyama – A Castle Town of History and Culture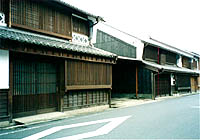 Since olden times, Tsuyama developed with its political center in Mimasaka, economic center in Izumo Kaido and transportation center along the Yoshii Canal. In 1603, a feudal lord, Tadamasa Mori, settled in this area, established his castle and developed a town around it. Today, the city roughly consists of two areas: Joto, on the eastern side of Tsuama Castle and Josai, on the western side. In the area where the old Izumo Kaido Highway used to run there were many accommodations which welcomed travelers visiting Izumo Taisha Shrine as well as massive samurai residences. The entire town is surrounded by trees with a canal running through and where a number of Buddhist temples and Shinto shrines are located. It is the city called "A Little Kyoto in Western Japan" which attracts visitors in every season.
Sightseeing Highlights in Tsuyama
Tsuyama Castle (Kakuzan Park)
This is one of the most famous sakura cherry blossom viewing sites in western Japan. It was selected as one of the 100 Best Sakura Viewing Spots where a number of people come and enjoy cherry blossoms in spring. The castle is also selected as one of the 100 Best Castles in Japan.
Access
A 10-min. walk from JR Tsuyama Station. A 15-min. drive from Tsuyama or Innosho I.C. on the Chugoku Highway
Shuraku-en Garden
The second-generation castle master created this superb stroll-style garden with a large pond following the design of the Sento Imperial Palace in Kyoto. Every season is the best time to enjoy its beauty.
Access
A 20-min. walk from JR Tsuyama Station. A 15-min. drive from Tsuyama or Innosho I.C. on the Chugoku Highway
Tsuyama Nature Wonder Museum
As many as 22,000 specimens are exhibited in this museum all about plants, animals and fossils, some of which cannot be seen anywhere else in the world. In the History and Folk Museum, the life of merchants during the Edo period has been recreated. This is a treasure house of Japanese wisdom and wonder.
Access
A 10-min. walk from JR Tsuyama Station. A 15-min. drive from Tsuyama or Innosho I.C. on the Chugoku Highway
Townscape of Joto Area (Important Preservation District of Historic Buildings)
The old Izumo Kaido Highway in Tsuyama was an important road connecting Edo (present-day Tokyo) and Izumo (present-day Shimane). The area along the highway prospered and still retains the old scenery and atmosphere of each period of time ranging from the late Edo period (1603-1868) to the early Showa period (1926-1989). There is the birth house of Genpo Mitsukuri (a scholar of Western study) and Tsuyama Western Study Museum where historical materials related to Genzui Udagawa, a scholar from Tsuyama are exhibited.
Access
A 20-min. walk from JR Tsuyama Station. A 15-min. drive from Tsuyama or Innosho I.C. on the Chugoku Highway
Sakura Shrine
After the large political battle from 1331 to 1333, Emperor Godaigo was exiled to an isolated island in Oki (present-day Shimane Prefecture). An old legend in the Taiheiki says that a samurai lord, Takanori Kojima, created a poem in order to console the heart of Emperor Godaigo. This shrine is believed to be where Kojima composed the poem.
Access
A 20-min. bus ride from JR Tsuyama Station and get off at Sakura-jinja-mae Stop. A 3-min. drive from Innosho I.C. on the Chugoku Highway
Important Annual Events in Tsuyama
Tsuyama Sakura Festival
From the late March to mid-April
Kakuzan Park, Shuraku-en Garden
About 1,000 cherry trees reach their full bloom. The fallen petals on the stone walls tell of spring's end. Night-time cherry blossom viewing is also recommended.
Tsuyama Summer Gongo Festival
First Saturday and Sunday of August
Sendo-cho and Yoshii River Bank Park
Along the Yoshii River Bank Park, fireworks, Gongo dance, and night festivals will be presented.
Tsuyama Festival
Third and fourth Sunday of October
Osumi Shrine in Ueno-cho, Takano Shrine in Ninomiya, Tokumori Shrine in Miyawaki-cho
One of the three biggest Mikoshi festivals in Japan. Large Mikoshi portable shrine and the Danjiri floats will parade around the city.
Joto Mukashi Town
First Sunday of November
Joto Area
Many food stalls and shops will be opened in the Edo-period town.
Traditional Crafts of Tsuyama
Sakushu Kasuri Textile
Kasuri is a traditional splashed pattern kimono made of cotton and is a traditional industry of Sakushu Tsuyama. Many households possessed a loom to weave Sakushu Tsumugi textile. After the yarns are dyed, they are woven in accordance with the design only with deep indigo and white colors. All handmade Sakushu Tsumugi is a traditional craft of Okayama Prefecture.
Yokono Washi Paper
Generally, Yokono Washi is placed in between extremely thin and delicate gold or silver leaves in order to separate them one by one. The tradition of Yokono Washi was already flourishing around 1804-1818 and was highly recognized and cherished by the samurai governor who ruled over the region. The extreme thinness, durability and soft touch are all examples of highest quality work. It is designated as the traditional craft of Okayama Prefecture.
Sakushu Cow Bamboo Craft
Handmade bamboo craftwork which represents cattle grown in the mountain areas of Chugoku region. In 1985, this Sakushu Cow craft was selected for the special New Year postcard design.
Food & Specialties of Tsuyama
Kirikasane
Popular sweets which uses fragrant yuzu (Japanese citrus) from the Mimasaka area of Tsuyama.
Ichima
Sweet red bean jam sandwiched between fluffy castella (sponge cake).
Jumangoku
A sweet dumpling of a soft rice cake with a silky red bean jam interior, with the rice cake sandwiched by sticky Kyoto-fu (flour gluten cake).
Hatsuyuki
A traditional sweet of the Mimasaka area of Tsuyama. Sticky rice grown in Tsuyama and a small amount of sugar are the two major ingredients.
Tsuyama Horumon Udon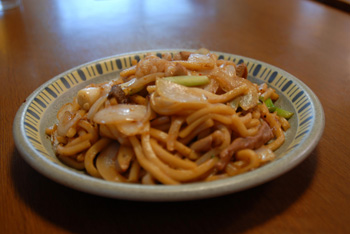 Udon noodles with cow's innards are popular local food of Tsuyama. It is served at many Yakiniku and Teppan-yaki restaurants in the city.
Access

Tsuyama Station on JR Tsuyama Line. A 70-min. bus ride from Okayama Airport
Contact

Tsuyama City Tourism Association
TEL:0868-22-3310 / FAX:0868-22-3315