Kinki/ Kyoto Pref.
Kameoka 
Kameoka, a Lively Town with Water and Greenery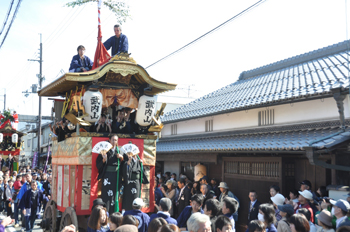 Kameoka has developed as a neighbor of Kyoto, the millennium city. It is surrounded by abundant natural beauty and is a place where people have co-existed in harmony with the surroundings throughout its history. In the late 16th century, Mitsuhide Akechi, a prominent samurai warrior, built Tanba Kameyama Castle. Today, the atmosphere of the old castle town still remains in the area. The Hozu River valley, which flows near the center of Kameoka, adds to the area's scenic beauty and visitors can enjoy beautiful scenery by taking the Sagano Romantic Train or trying Hozu River rafting. Yunohana Onsen is a nearby hot spring resort located amongst the peaceful mountains and is known as a retreat near Kyoto. Kameoka has a number of noteworthy attractions and was home to many cultural persons such as Okyo Maruyama and Baigan Ishida, who both influenced Kyoto Culture.
Sightseeing Highlights in Kameoka
Important Annual Events in Kameoka
Traditional Crafts of Kameoka
Natural Grind Stone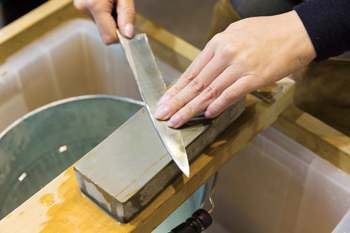 "The Sacred Production Site of Natural Grind Stone." Kameoka produces a best-ranked grind stones called "Awasedo". The "Forest Station Kameoka" in Miyazaki Town of Kameoka City opened an exhibition and experience pavilion with the theme of natural grind stones and craftsmanship in April, 2017. Not only various kinds of natural grind stones produced in Kameoka but also grind stones from all over the world are exhibited here.
Food & Specialties of Kameoka
Kameoka Beef
Cattle in Kameoka are raised carefully with pristine water and clean air. The temperature difference in summer and winter in this area is approx. 35 degrees and such an extreme environmental difference makes the beef firm-textured. Also, the climate of deep fog (Kameoka is called "Fog City") influences its soft taste. The beef tastes succulent but not too fatty, and has a soft texture and natural sweetness. Breeders spend a longer period of time to raise the cattle than is usual. Meat shops certified by the Kameoka Carcass Promotion Association display signs showing "Certificate of Shop of Kameoka Beef"
Tanba Matsutake Mushroom & Tanba Sweet Chestnut
Tanba matsutake mushroom is the highest class and most famous variety of matsutake mushroom throughout the country with a superior flavor and taste. Tanba is also known as a production area of chestnuts which are larger in size and better tasting than other varieties of chestnuts.
Tanba Black Soybean & Tanba Dainagon Red Bean
In the Tanba area, black soybeans and Dainagon Adzuki red beans are also famous products. In particular, the red beans are called Dainagon Adzuki and are highly valued for use in many kinds of food items.
Botan Nabe Wild Boar Hot Pot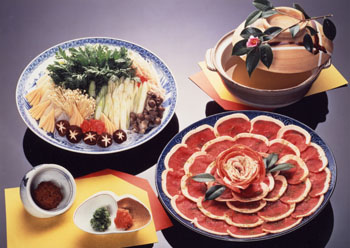 Botan Nabe is a local dish of Kameoka and the best season to enjoy it is from November to February, the coldest period, when boar meat becomes juicy and tasty. The hot pot is named after the peony flower because the sliced meat of boar arranged beautifully on a big dish look like peony flowers.
Kyo Yasai Vegetables
Agriculture has been prospering in Kameoka since ancient times, and the town has developed as a production area of Kyo Yasai vegetables. People can buy these quality products at ryokan inns and morning markets. The vegetables are brought to Kyoto, too.

Tanba Local Sake
As Kameoka has been known for its pristine water since the olden days, it is famous as the production area of rich tasting locally brewed sake. Touring some of these sake breweries is one of the popular excursions for visitors.


Inukanno Soba Noodles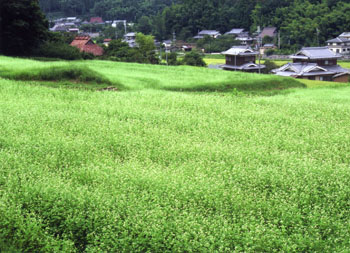 The district of Inukanno in Kameoka has developed as one of the great production areas of buckwheat noodles thanks to the efforts of the local agricultural association. Inukanno Soba noodles have become a Kameoka specialty and are known by many people. It is also known as a sightseeing spot where buckwheat flowers bloom everywhere in autumn.
Access

Kameoka Station on JR Sanin Main Line
Contact

JR Kameoka Station Tourist Information Center
TEL:0771-22-0691 / FAX:0771-29-5171