Kyushu/ Kumamoto Pref.
Hitoyoshi 
Hitoyoshi Kuma, the Richest Hidden Village in Japan - A Mixed Culture of Conservative and Progressive Spirit Created by 700 Years of Sagara History -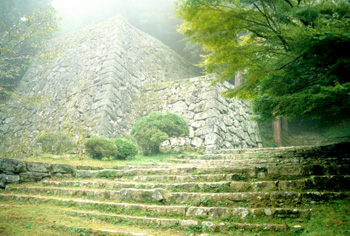 Hitoyoshi is the place which appeared in the traditional Joruri puppet play, "Igagoe Dochu Sugoroku" as an escape destination. The place is surrounded by the Kyushu Mountains and one of the three most rapid rivers in Japan, the Kuma River, runs east to west through the middle of the city. The city has a nostalgic atmosphere together with abundant nature with pure water and fresh greenery, along with some 80 hot spring sources. The city was also nourished as the castle town of the Sagara Family and its unique culture is often referred to as "Sagara culture" and many shrines, temples and Buddhist statues from the Kamakura period (12-14 century) still remain. Recently, Hitoyoshi is receiving much attention from all over Japan for having retained its Buddhist art treasures from the medieval era. The place was designated as a "Japanese Heritage" by the Cultural Affairs Agency in April, 2015 for possessing many cultural heritages, old remnants and customs.
Sightseeing Highlights in Hitoyoshi
Important Annual Events in Hitoyoshi
Traditional Crafts of Hitoyoshi
Kiji Uma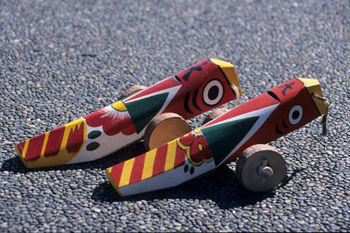 In the old legend, when the Taira Clan was defeated in the Battles of Ichinotani and Dannoura, some of the Taira members seeking a safe refuge scattered to live in Gokanosho, Kyushu's mountainous area, or Kijiya and Otsuka located in a remote part of Hitoyoshi. These Heike members, who had once spent a luxurious time in the ancient capital of Kyoto, began to make beautiful wooden crafts remembering their glorious former lives in Kyoto and created Kiji Uma, Hana Tebako and Hagoita wooden crafts. Of all these, Kiji Uma has been a popular craft item for more than 800 years. Sizes vary from small to ones that are as large as a human and thus allow people to ride on them. They are all vividly painted in red, yellow and green colors. At present, a sightseeing mascot character of this Kiji Uma, "Hit-kun" is taking part in a PR activity in the town.

Hana Tebako Box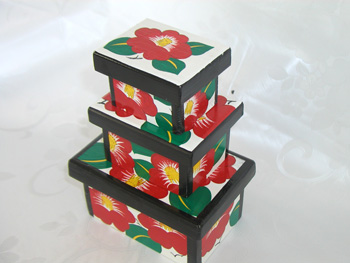 The popular local products of this area are Kiji Uma, Hana Tebako and Hagoita all of which are wooden craft works first produced 800 years ago by the surviving members of the Taira Clan after they were defeated in the major battles. In the remote mountainous areas, survivors made these wooden crafts remembering their good old days in the former capital of Kyoto. The techniques for making these crafts have been passed down for generations and they continue to exist today after 800 years as major local crafts. Travelers in the old times often bought Kiji Uma for boys and Hana Tebako and Hagoita for girls as a souvenir at the Ebisu market held in Hitoyoshi. Many of them are displayed as a room decoration, while Hana Tebako is used even now as an accessory box for women as well.

Food & Specialties of Hitoyoshi
Access

Get off at Hitoyoshi Station on JR Bigo Line, or Hitoyoshi Inter Change on Kyushu Expressway
Contact

Hitoyoshi Tourist Center
TEL:0966-22-2411 / FAX:0966-22-2411
E-mail: hitoyoshi-info@jeans.ocn.ne.jp