Shikoku/ Ehime Pref.
Ozu 
Ozu, a Little Kyoto in Iyo where People Gather and Relax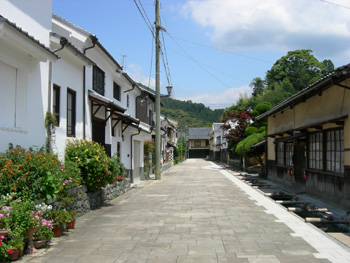 Ozu prospered as the castle town of the Kato Family. This castle town was nurtured by the pure waters of the Hiji River and it still preserves the atmosphere of the good old days of the Edo period (1603-1868) to Meiji period (1868-1912). At some sections of the castle, where the Shikkui white plaster walls have fallen off to expose the earthen wall underneath, visitors will be reminded of the passage of time. In wintertime, the "Hijikawa Arashi" morning mist transforms the city into an even more beautiful little Kyoto.
Sightseeing Highlights in Ozu
Important Annual Events in Ozu
Traditional Crafts of Ozu
Takahari Chochin
(Designated as a Traditional Craft/Traditional Craftsman of Ehime Prefecture)
A Takahari Chochin paper lantern which is hung under eaves at festivals and enshrined at shrines, is designated a traditional craft of Ehime Prefecture. At present, this chochin is the only product designated as a traditional craft in Ozu. Along with the Takahari Chochin, a shop owner as well as an artisan of the Hirajiya Kasa Chochin shop was designated as a traditional craftsman by Ehime Prefecture.
Bamboo Crafts
Discover the beauty and strength of bamboo crafts in Ozu which are made using highly skilled techniques. Kumade is one of the lucky bamboo crafts that uses old techniques inherited from the traditional local industry.
Food & Specialties of Ozu
Imotaki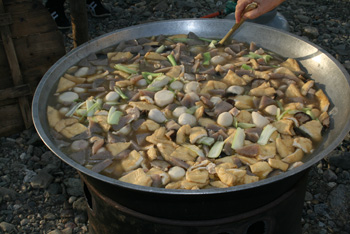 Imotaki in Ozu has been passed down for over 300 years since the Hansei Tokugawa period. It is a traditional custom to savor the Ozu specialty mouth melting Satoimo taro potato cooked in a pot at the riverbank. Straw mats are laid out along the Hiji River, and people gather to share the festive event while enjoying the beautiful lit up Garyu Ssanso Villa and feeling the gentle breeze under a night sky.
Freshwater Fish Cuisine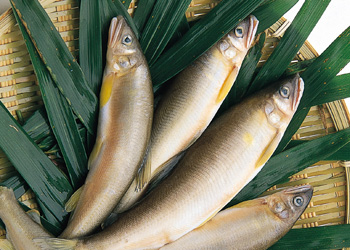 Ayu sweet fish and river crab from the Hiji River has a simple taste. Especially, ayu was used as a tribute to the shogun during the Hansei Tokugawa period.
Satsuma Cuisine
To add flavor, mugi barley miso is grilled, and put into a cold dashi broth. Then, flaked fish is added into the broth and warm rice is poured over it. This is a traditional cuisine of Ozu.
Shigure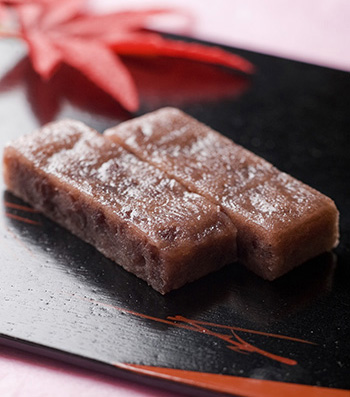 When Ozu domain was staying at Edo, this Shigure recipe was passed down as a family-secret confectionery. It uses azuki beans from Hokkaido and is mixed with mochi powder, rice powder and sugar. The dough is then steamed following the old style. It has a sticky texture with a light taste.
Gesso-mochi
This traditional confectionery shop has been operating for over 370 years since its opening in 1624 and the shop used to be a purveyor to the Ozu family. This is a Japanese Wagashi sweet in which Koshian smooth bean paste is wrapped in Warabi-mochi, then Kinako powdered soybean is sprinkled on. When eating, the soft texture touches the tongue and warabi-mochi and bean paste melt all together. It will bring you an unforgettable taste and you will feel like eating more and more.
Access

Iyo Ozu Station on JR Yosan Line
Contact

Ozu City Tourism Association
TEL:0893-24-2664 / FAX:0893-24-2750
E-mail: info@oozukankou.jp